Welcome!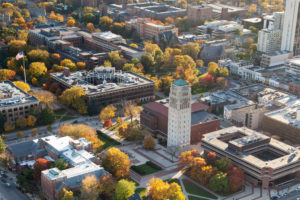 Thank you for your interest in the University of Michigan as a possible location for your production. U-M offers a wide range of exterior and interior settings, including a world-famous law quad modeled on the architecture of Cambridge and Oxford universities and buildings in the Beaux Arts, Italian Renaissance, Arts & Crafts, and modern styles. Visit our location photos to see some highlights of the Ann Arbor campus.
Get started by completing the online film application.
There's never been a better time to film in Michigan, and we'll do everything we can to facilitate your filming experience at U-M.
For more information about filming in the city of Ann Arbor, please contact Pam Hughes, Convention Sales Manager, Destination Ann Arbor. Phone: (734) 995-7281, Email: phughes@annarbor.org.