Welcome!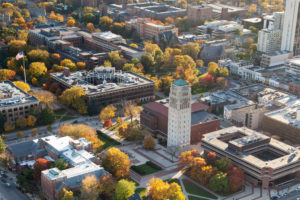 Thank you for your interest in the University of Michigan as a possible location for your production. The University offers a wide range of exterior and interior settings, including a world-famous law quad modeled on the architecture of Cambridge and Oxford universities and buildings in the Beaux Arts, Italian Renaissance, Arts & Crafts, and modern styles. Visit our location photos to see some of the highlights of U-M's three campuses.
There's never been a better time to film in Michigan, and we'll do everything we can to facilitate your filming experience at U-M. To learn more about exciting things happening with Michigan's film and creative industries, visit the Michigan Film Office website.
For more information about filming in the city of Ann Arbor, please contact Pam Hughes, Convention Sales Manager, Washtenaw County Convention and Visitors Bureau, Phone: (734) 483-4444, Email: phughes@ypsilanti.org.
---
Michigan Creative Film Alliance
The University Research Corridor's new Creative Film Alliance is holding its first Summer Film Institute, bringing faculty and students from U-M, MSU, and Wayne State together. The students will develop a screenplay and produce a 30-minute film. Learn more about the Creative Film Alliance.